Mentors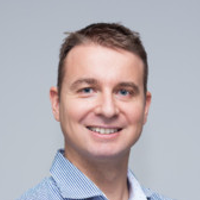 An entrepreneur with more than 17 years of experience, co-founder of several startups, owner and director of the company Editor.
Tomaž Jug is an entrepreneur with over 17 years of experience in the fields of web product and business development. Jug currently serves as the founder of Hexapad, CEO of Beezway and a representative of the management team at Editor, where they are involved in product, brand and franchise development.
Jug is an expert in startup business development, web development and design, user experience, programming, business application development and franchising. He actively cooperates with Primorska Technology Park as an evaluator and consultant for project evaluation.
Jug is a lecturer at corporate conferences, and has already received several Chamber of Commerce awards in the field of innovation and several Netko awards for web projects.
FOREIGN MARKET EXPERIENCE
Avstralija
Italija
Nova Zelandija
Slovenija
KEY INDUSTRY
Komunikacija in sodelovanje
Marketing in oglaševanje
Produktivnost in poslovne aplikacije
Proizvodni procesi
Rešitve za plačevanje
Poznavanje tehnologij
Orodja za spletne trgovine
POS sistemi
Računalništvo v oblaku
Spletna plačila
Spletne in mobilne tehnologije
KEY COMPETENCIES
Poslovna strategija
Prodaja in razvoj poslovanja
Razvoj programske opreme
EXPERIENCE WITH COMPANIES IN DEVELOPMENT STAGES
MENTOR IN PROGRAMMES
P2 2013 SPS
SK200 2017 SPS
SK50 2014 SPS