Mentors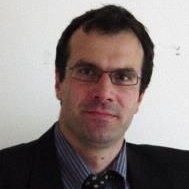 An entrepreneur and mentor active in the promotion programs of the Ljubljana University Incubator and the Jožef Štefan Institute.
Kunaver is the owner and director of Primum, which is involved in the development of global technological solutions in the field of aerodynamics. He is a permanent external associate of the Jožef Štefan Institute in the field of innovation and technology transfer to the economy, and the chief external evaluator and mentor of entrepreneurial ideas at the Ljubljana University Incubator (LUI).
Kunaver also gained work experience as a project director at ITEO Management Consulting, as a marketing associate at Avtomontaža and as a project leader at Seaway. As an entrepreneurial mentor, he has advised several companies including myCol, Haze instruments, Plasmadis, RGA and Wintech.
FOREIGN MARKET EXPERIENCE
Italija
Nemčija
Velika Britanija
KEY INDUSTRY
Avtomobilizem
Energetska učinkovitost
Ladijski prevoz
Osebne naprave in aplikacije
Raziskovanje in proizvodnja
Poznavanje tehnologij
Alternativni viri energije
Energija iz naslova plimovanja
Pametni dom
Vetrne turbine
Vztrajnik za shranjevanje energije
KEY COMPETENCIES
Drugo
Poslovna strategija
Strojni inženiring
EXPERIENCE WITH COMPANIES IN DEVELOPMENT STAGES
MENTOR IN PROGRAMMES
P2 2013 SPS
SK200 SPS
SK75 2022 SPS