Mentors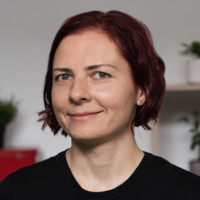 Mateja Verlič Brunčič
GenePlanet d.o.o
An experienced Digital Product Development Specialist and COO of Equaleyes Solutions.
Brunčič holds a Ph.D. in computer sciences and is a professional with years of experience in all stages of digital product development from planning, design to execution. She began to gain her professional experience at Zemanta, where she was active for three years in the fields of research, product management and implementation of partner work on EU projects. Dr. Brunčič continued her journey as a project manager at Kendu and COO of Equaleyes Solutions. Currently she is active as Director of software development at GenePlanet.
As a mentor, Dr. Brunčič is pleased to help startups prepare digital product strategies, develop digital products, design applications and user experience, communicate with clients, lead developers and non-developers.
FOREIGN MARKET EXPERIENCE
KEY INDUSTRY
IT oprema in infrastruktura
KEY COMPETENCIES
Razvoj programske opreme
Uporabniška izkušnja
EXPERIENCE WITH COMPANIES IN DEVELOPMENT STAGES
Idejna faza
Semenska faza
Zgodnja faza