Mentors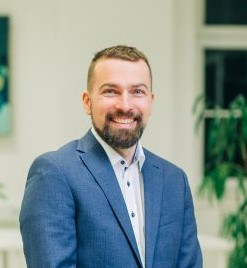 Blaž Zupan
Ekonomska fakulteta, Univerza v Ljubljani
A serial entrepreneur, doctor of economics, entrepreneurship lecturer and co-founder of Optiprint.
Blaž Zupan co-founded Optiprint as his fifth entrepreneurial project in 2009, which leases colour printers to minimize costs of colour printing for customers. Six years later, he made a successful exit from Optiprint, which at the time had 20 employees, a million euros of revenue and more than 250.000 euros in net profit.
Zupan works as a lecturer of entrepreneurship at the Faculty of Economics in Ljubljana and is a consultant in the field of design thinking and lean business. He has mentored and advised more than 500 business teams under initiatives such as Start:up Slovenia, BTC Camp, YES Start, SPIRIT – Mladim se dogaja, etc. His deep experience is in product development by design thinking and lean business, market analysis, marketing, distribution and sales.
As a business angel, Zupan also invests in startups.
FOREIGN MARKET EXPERIENCE
KEY INDUSTRY
Izobraževanje in upravljanje znanja
Komunikacija in sodelovanje
Marketing in oglaševanje
Mediji
Oblikovanje in inženiring
KEY COMPETENCIES
Oblikovanje in razvoj produktov
Poslovna strategija
Uporabniška izkušnja
EXPERIENCE WITH COMPANIES IN DEVELOPMENT STAGES
MENTOR IN PROGRAMMES
P2 2013 SPS
SK75 2022 SPS