Mentors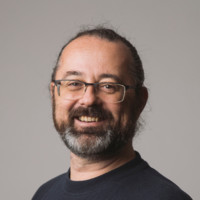 The founder of the ABC Accelerator, the most recognizable company accelerator in Slovenia.
After working as an assistant at the University of Maribor, where he worked as a researcher at the eCommerce laboratory, Grum began working at the internationally renowned IBM enterprise. There he was responsible for a range of activities in the fields of innovation, education and university programs and was involved in establishing the IBM Cloud for developers system as well as establishing the startup ecosystem around the IBM Cloud solution.
In 2015, Grum co-founded the internationally acclaimed ABC Accelerator, where he has been the Director since 2018. Within the three-month accelerator program, startups are assisted in the initial stages, both in the form of consulting and financially.
As a consultant and mentor, Grum has assisted a large number of incubated companies, including Tomappo, SmartFuturistic, Sileo, Money Rebel, Homey, ID.Conference, Fastcast and many others.
FOREIGN MARKET EXPERIENCE
Avstrija
Bolgarija
Češka
Hrvaška
Italija
Madžarska
Nemčija
Poljska
Španija
Ukrajina
Združene države Amerike
KEY INDUSTRY
Energetska učinkovitost
Finančne transakcije
IT oprema in infrastruktura
Produktivnost in poslovne aplikacije
Rešitve za plačevanje
Poznavanje tehnologij
Pametni dom
Proizvodni stroji
Spletna plačila
KEY COMPETENCIES
Investicije in prodaje podjetij
Poslovna strategija
Prodaja in razvoj poslovanja
EXPERIENCE WITH COMPANIES IN DEVELOPMENT STAGES