Mentors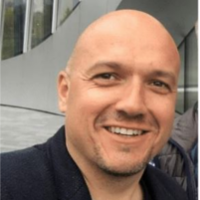 A passionate IT enthusiast, block chain technology expert and co-founder of the startup Coolomat.
Andrej Vidmar is a communicative entrepreneur and a passionate enthusiast of IT technology of various segments. He began his entrepreneurial career with activities at the Institute for Project Management and Information Technology (IPMIT), He continued his career in leadership positions at Lidl and Big Bang.
In 2014, Vidmar co-founded the successful startup Coolomat, currently active in Poland with substantial growth in the USA market in 2020. He is a member of the Bitcoin Association of Slovenia, the Blockchain Think Tank Slovenia groups, Fintech and Logistics.
He has experience in areas such as trade, eCommerce, IoT, Smart City, logistics, blockchain, international business, import/export, social marketing…
FOREIGN MARKET EXPERIENCE
Avstrija
Hrvaška
Nemčija
Poljska
Slovenija
Srbija
Združene države Amerike
KEY INDUSTRY
Hrana
IT oprema in infrastruktura
Logistične storitve
Proizvodni procesi
Trgovanje z blagom
Poznavanje tehnologij
Drugo
Internet stvari
Logistika in SCM
Pametna mesta
Tehnologija verižnih blokov
KEY COMPETENCIES
Poslovna strategija
Razvoj programske opreme
Strojni inženiring
EXPERIENCE WITH COMPANIES IN DEVELOPMENT STAGES
Idejna faza
Semenska faza
Zgodnja faza